If you are looking to ride in the desert southwest you should strongly be considering the TRACTIONATOR DESERT H/T from MotoZ, the Australian tire manufacturer
I used this tire on a recent southwest ride to review it and assess how it acted and lasted.
Mounted in Phoenix AZ, ridden on sand and dirt tracks across to Blythe California and to the start of section two of the CABDR. Then I rode all the remaining sections of the CABDR (documented here) including most of the 'expert sections'. Crossed to the NVBDR and rode south on sections 3.2,1. From there back to Phoenix again on more dirt and sand, total mileage was approximately 1800 miles.
85% offroad 15% on road, loads and loads of sand as expected in the southwest and running tire pressures in the 10-15 psi range on a KTM 500exc
I don't profess to be a skilled sand rider, I didn't grow up in the desert SW, so any help a tire can give is appreciated greatly. The Desert H/T felt like a paddle tire at times, especially in deeper soft sand and silt, digging in and giving great grip. Areas where I would normally expect to struggle a little to pull away, with this tire I didn't. Ever.
On incline starts and general climbs in the sand, it really was a great help making riding a breeze, where a normal knobby would have taken a little more concentration on my part.
Why?
Look at the first photo and the shape of that large knob with a scooped shape, that's the assist!
I spoke with MotoZ before leaving and was told categorically this is not a long life tire for my bike, I was told to expect 1700-2500 miles absolute maximum unless I was excessive on the throttle then life 'could be' greatly reduced.
After 1800 miles it looked like this –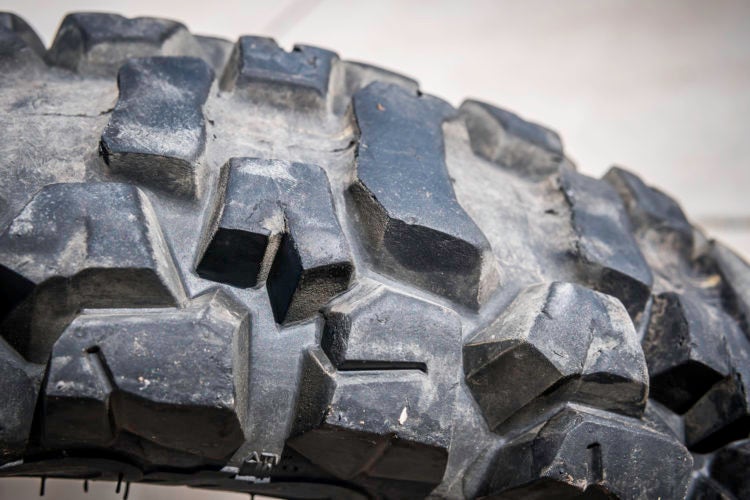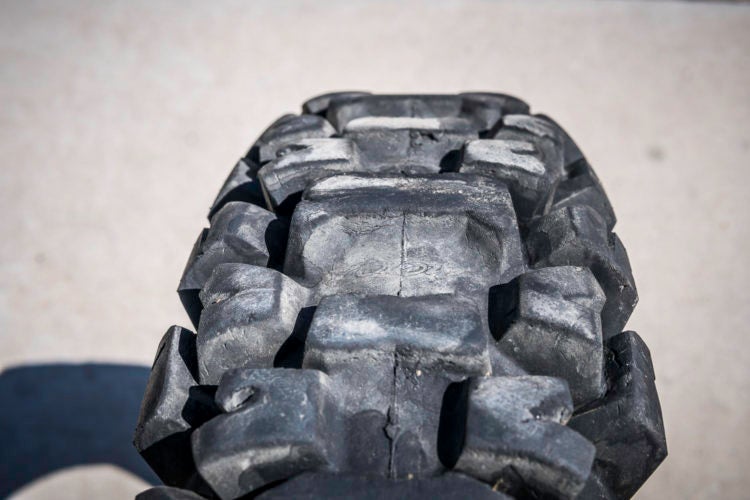 Starting tread depth was 12mm after 1800 miles it's down to 5mm, or 60% worn. Again this is not sold as a long life tire in my tire size, it is a specific performance tire.
If the CABDR, NVBDR, NMBDR, UTBDR or AZBDR or other similar areas are in your future, give this tire serious consideration especially if the conditions are going to be dry.
**As a side note the matching front tire was also used and is showing less than 20% wear over the same mileage
More detail on routes in the Southwest can be found on the rideBDR website and any questions or inquiries about MotoZ tire range can be directly answered via their website contact page here.