Below is an edited version of my build thread that I posted in its entirety on ADVrider, here. This is just the major points that I posted and from here will be updated after test rides then I will try and adjust so it is a more readable build thread.
If it seems a little choppy then jump to the build thread and you can see all the comments and back and forth and a lot more information, but be warned it is 70 pages long (Dec 19)
Time for a new bike for me, a 2016 500exc six days, time to prep it and get it ready for more RTW travel.
This is the blank canvas, so to speak
Over the last ten years or so I've been collecting gpx dirt tracks, I've accumulated over a million km's of them and have put together a crazy route using a few of them combined…
The story goes something like this
Guy #1 buys 2016 500exc scares him to death sells it after one ride
Guy #2 buys it from guy #1 laughing as he pulls away, after one ride he's scared too…trades it in on a minivan
Guy #3 (the car dealer) who I bought it from, rode it once then it started snowing, then stored it in his office hoping for a break in the weather that luckily never happened, casually lists it to see if there was any interest, not expecting a sale in the dead of winter, he's in Michigan…then I come along.
He had kind of heard of me, so was he interested what I would do with it and where I would take it, he was about to pull the listing but I got him to change his mind.
I picked up a 2016 500exc six days with 24 hours and 543 miles on the clock, so basically just broken in.
I wired the money over had it shipped to AZ and it arrived a few days before I did, looking like this
The bare canvas so to speak…
let the madness begin…
Firstly before this gets rolling (from me) I will let you know this is not a low budget set up, the bike had a nice and easy first 500 miles but from here on out, I will be doing my best to ride the life out of it daily, then get up and do it all over again the next day.
The bike to me was a screaming deal at $9k which included
a high end set of SuMo wheels, SOLD
a rekluse clutch, SOLD
rear end tail tidy and LED's
two sets of brand new tires
All said and done with what I can sell and what I don't have to buy, I guess I'm in it $7k.
I guess to answer a few none KTM owners that follow me and wonder why I bought a 2016 and not a newer 17, 18 or even 19. A few things that made that decision for me are larger oil capacity a kick start, the bigger fuel tank was an option I'll buy, billet triple trees, and a solid rear brake rotor, all things that I would have bought, so basically a money-saving.
I did find a stock 17 for a similar price but then add just those few things and the price made it not worthwhile.
The 6-days over a stock bike? The 6-days has a slightly higher component level and I couldn't find an equivalent standard 500exc for a better price
There are a few options the way I look at it for what a bike needs to be…
A local riding bike – Ride it as is, replace stuff as it breaks with stock or better parts
A TAT, BDR type bike – change the seat, tank, suspension, basic protection
RTW ready bike – upgrade from stock all parts that are likely to break or fail easily, not satisfy mechanically or visually, increase range, comfort, and protection
This bike will be #3. It will have to appeal 'to me' for me to want to ride it every day. I just can't get on a bike that doesn't look right in my eyes.
Then it comes down to the quality product that is tested, durable and RTW ready. If you are going to take a bike into the middle of nowhere for a long time there is no point trying to save a few $ by buying Chinese eBay crap. Take the pain once and buy quality from companies that stand behind their product and actually answer the phone.
Go back to post the top so I can explain that map and route a little.
The US is what I consider a test ride, a warm-up if you will, gives me time to get the bike exactly as I want it, comfort, performance, and adventure-ready. If at the end of the 'test' anything needs changing or upgrading I will be in the US to do that easily.
Then follow that dotted line…this is where hell begins, otherwise known as Siberia, shipping into Magadan, and hitting acronyms like RoB, OSR, BaM, from there a triple crossing of Mongolia then into the 'stans, then onto a complete loop of the TET.
***and now that route is reversed
Let's begin…
A quick simple swap from the stock muffler to the Akro…it was in the box so just threw it on, done.
The other swap was to take out the Rekluse and put the stock unit back in.
Next up protection, the bike will be taking abuse, lots of it so it, protection and stronger parts where necessary that could take abuse. It needs a bash plate a sturdy one, a very sturdy 5mm Enduro Engineering Extreme bash plate
Was done for the day, came out the next day to carry on as stuff was arriving and the bike was on the lift and a small drop of oil was on the ground, but from where?
The bike had been on its side stand and when I dropped the oil it did seem a little low, but I had changed anyway back to stock levels. Looked all over and nothing obvious until I looked closer.
obviously, one of the PO's had been a little overzealous on the hardware and tested the strength of the clutch housing case, putting it back to stock must have been enough for a hairline crack to appear
So the question, replace with a stock one or aftermarket, I had planned to add protection over it, but as the stock cover and protection was north of $130 it seemed a lot more logical to upgrade to a Hinson cover
Round the other side, I called Cain @trailjammer who coincidentally I had interviewed (have a read) and got his stator cover so now protected both sides, trailjammer designs covers are tried and tested and way better than the other plastic options.
Pegs…stock ones are just too small to be standing all day!
ADVrider flea market to the rescue, I was looking at the KTM adventure/ rally pegs,a quick scan of the flea market and I saved about $50 for an as new pair
Down in that same area more for peace of mind, stock shifter and brake pedal had to go, replaced with Hammerhead set up and a brake snake added for all that long grass, roots and such that could potentially cause an issue in Siberia hiding in 100's of water crossing and puddles deep enough to hide a Volkswagon Beetle, and their bolt to hold the shifter on
Up on the bars these have to go, sorry KTM but they are crap, these have 500 miles on them and are coming apart already!
My preference is for 714 rally grips, for me, they are the most comfortable and long-lasting, and $10. I know everybody will have an opinion on grips but each to his own…
to show you the longevity, these are the original 714's on my Super Tenere with 62,000 miles of riding
I get a mild hand cramp sometimes when riding, if you look at your hand there is an indent in the middle
when a tight grip on the bars is necessary it flexes that part of my hand and a cramp happens, I counteract that by using a technique in the grips used on the older British bikes…raising the middle section so your whole palm is always on the grip.
This is easy to do with a small build-up of electrical tape.
makes the grips a bitch to get on but when they are on there I add a few wraps of safety wire to stop rotational slippage

The newer KTM side stand is the one item I think I have read the most about failure, so a simple swap is to use a better quality component, like Pro-moto-billet
Due to the mounting bracket, I could insert the pin as you suggest with the head at the high point, but the mounting it in reverse, head of the pin downwards it is now IMPOSSIBLE for the pin to come out unless the side stand falls off first.
I get rid fo the cotter pins due to the lack of quality, they are basically single-use cotter pins (so worthless to me), the absolute worst quality I have ever seen in over 25 years in the motorcycle business. I replace with hardened steel hair clip pins and then as added security bend one end over to secure it, but also at the same time, this can be taken out and reused.
For the peg to come off I would have a lot more things to worry about believe you me.
I hate cooling systems.
2015 I had an overflow tank, pressurize then explode in my face while riding in Utah in the middle of summer when my fan gave up and pressure rose so quickly due to deep sand riding and temps over 110 degrees. So I might go a little overboard here…just because coolant to the face really hurts!
Stock hoses and Clamps switched out to Samco Hoses
Stock rad cap upgraded to a 2.0 with a temp gauge this was quickly removed after it failed
Fan controller/ thermostat replace with a Trail Tech unit so I can actually lower the temp for the fan to kick on earlier by a small amount, and get a good reading at the source.
I purposely left the stock wiring in place side by side so I have a back up if there is a failure in the middle of nowhere, and instead of just a blind plug, I leave the stock thermostat in place and used as a plug for now.
To me, this is a good back up for remote riding
and then flush and refill the system with Engine Ice
The fuel filter is a Zipty filter and will also add a neck filter from either ProFil or Guglatech and I also have the Motominded Moto Essentials Kit MEK to carry additional micro fuel filters…and keep an eye on the in-tank filter and carry a spare.
I'm not against bigger bikes per se, I used to build and sell very big bikes.
Big bikes are great, and can be ridden virtually anywhere (by a very skilled rider) but ridden by a lesser skilled rider the bike will get dropped, fact!
The quick response is always "I can pick up my loaded GSA/ S10/ AT easily."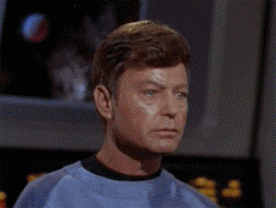 The rebuttal should be, that's great, but can you pick it up, 15-20 times a day, in mud, sand, snow, sinking in a puddle, upside down in ditch, in a river in a matter of seconds….by yourself, day after day after day after day…thats Siberia!
….eerrrmmmm…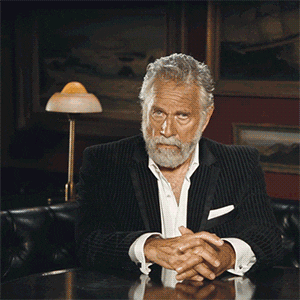 To me: pick the right bike for the adventure, don't let the size and weight of your bike (and luggage) determine your adventure for you. The last thing I want to be saying to myself in my helmet, "wish I could go down that track, but don't know if I can on this big bike'"
Cost is always a thought, and reliability is always in the back of your mind, every bike breaks down, so do your due diligence before you leave, prep it correctly to reduce issues, problems, concerns, potential failures, etc.
Keep the motor as stock as possible so any work is easy and parts are available, replace weaker none motor parts with better stronger parts and go ride
A complete rebuild of a 500exc motor is less than a GSA stator replacement (official dealer price), all the way down to the cases being split. @Aaron.S and I talk a lot, below is what was involved in his motor rebuild that he shared with me, I eliminated all the pricing (that's his call if he wants to add it)
Brake and clutch levers are always a great thing to break, and always in the wrong place and wrong time, so a remote ride I'll carry a spare set.
But at $80 for stock replacements that would be brittle as the originals, it makes no sense to buy the same so for $130 I bought shorty ASV levers with a 4-year warranty
and the nice thing is I can position them where my sammich holders can reach them
Of course, just to the right of that is this shit show!
Time to uncouple a few connectors and add a little of this
There are a few connectors at the front that are similar so, a little marking helps for the future. All in all, I counted 39 connectors all over the bike that needed some dielectric in them, again just peace of mind for the long haul and easy to do when the bike is nice and clean
I did a swap out on plastics, got an all-white Polisport kit, once the tank is off and the big Acerbis is on, it no longer looks like a Six Days and the decals just didn't do it for me
I grabbed a Bajaworx small windshield and grabbed some white vinyl and wrapped it, if you ever plan to do this and there a 16 kid in the shop and he offers to do it for you for $20, take him up on that offer…it is a bitch to do
I had a GPR4 damper that needed a rebuild, I sent it off and it came back looking all spiffy, so on it went
get the pin height set
Once that is all done instead of the GPR top clamp, I'm using Highway Dirtbikes top clamp, guards, and gauge mount. Super clean set up very easy to install.
it all fits in good together with the various mount HDB makes, the only issue was with the key mount and the GPR, I had to space upwards to make it work together, so made some 10mm spacers and its good.
The gauge is now up and more user-friendly and you can actually see the turn signal light! I add a bracket from HDB to house a voltmeter/ dual USB that I got from Motominded
Let's talk lights…
On the rear end, my bike came like this from one of the PO's, no idea on the brand?
Up front, I showed the wiring earlier in the thread, its a mess behind the headlight. When I had my shops most of the service work that came in for a broken-down bike was 70% wiring/electrical-related issues.
This is where innovation and thinking outside the box and the use of new technology is great.
Lighter, better, stronger, this is what I think of @MotoMinded. Chris who owns Motominded.com has some amazing products for us. If you haven't heard of them and ride a KTM, Husky, GasGas or Beta I really think you should have a look at his website, he uses 3D printers with three different kinds of plastics to create unique products that a few years ago wouldn't have been possible easily.
So back to wiring, it's a rats nest under there, and the headlight mask moving on those rubber strap mounts on rough tracks doesn't help, its an electrical issue waiting to happen.
Chris is a rider and he came up with a great solution, a way to firm up the front mount area, and strengthen it too. Also, the way his set up works, it allows you to tidy up your wiring significantly and have it fixed in place to stop rub through and potential shorts in the wiring.
Watch the video and see how this works because he shows it way better than a few photos from me would. If you aren't a hands-on guy, this mount will pay for itself just by the fact it would stop potential electrical issues happening that you would have to pay a shop to diagnose and fix
youtube https://www.youtube.com/watch?v=yRify9p96RU?wmode=opaque
To go along with the super mount he makes a killer dash set up that raises your dash up and relocates the key switch, turn signal indicator light, adds a waterproof on/ off switch (your choice of use), voltmeter, and dual USB's…and it works as a modular system that all fits together.
I used the Motominded photo…I forgot to take one!
It's a very compact lightweight option
The key to the Motominded super mount is it allows the use of a bigger/ heavier headlight and will stop that headlight shake the rubber straps allow.
We all know the first rule of adventure riding 'DON'T ride in the dark'…well it happens.
So as this is a build for the long term I know I'll get caught out a few times and the stock headlight just plain sucks. I think I read somewhere the output is around the 1200 lumen range.
Time for a major light upgrade, so along with the supermount, I changed the front mask to 2017 (easy, just $25) so I would have a better choice of lighting. I opted for the XL80, putting out 9500 lumens or an increase in maximum output of 790% more light…wow!
The light is mounted in a Motominded mount plate and is easily adjustable by a couple of Allen bolts, the low beam is corrected by a Skene controller, again another inmate @jskene…love supporting the inmates who are so innovative.
Can't say enough good things about Motominded, and really happy to get their name out there.
On most bikes to do a rear shock upgrade is a matter of special tools, or having to take the shock to a specialist.
With the 2016 KTM500exc is just a matter of literally ten minutes maximum before you are riding again.
The rear shock on an exc is a PDS (progressive damping system) and has been that way on a number of modes since 1997 and 'The Jackpiner', it was named after Penton's most famous model, colored blue.
22 years later how has the shock change and how simple is it, and what do you need to do a spring swap.
no specialist tools
4mm allen
axle wrench
shock wrench
6mm and 13mm sockets
torque wrench
New spring (I got mine from Slavens Racing as they had the largest selection on hand, and around $100)
The change goes like this –
remove rear wheel
remove mud protection plate with the 6mm
remove top and bottom bolts holding the shock in place
remove shock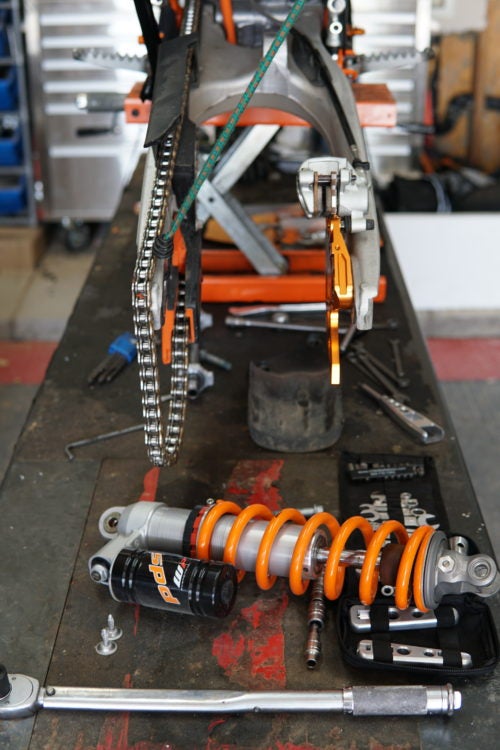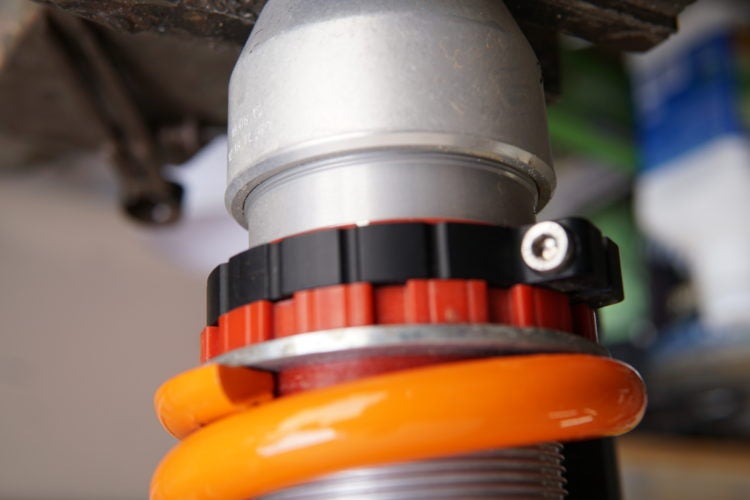 put the shock in a vice, holding it in place with the steel bushing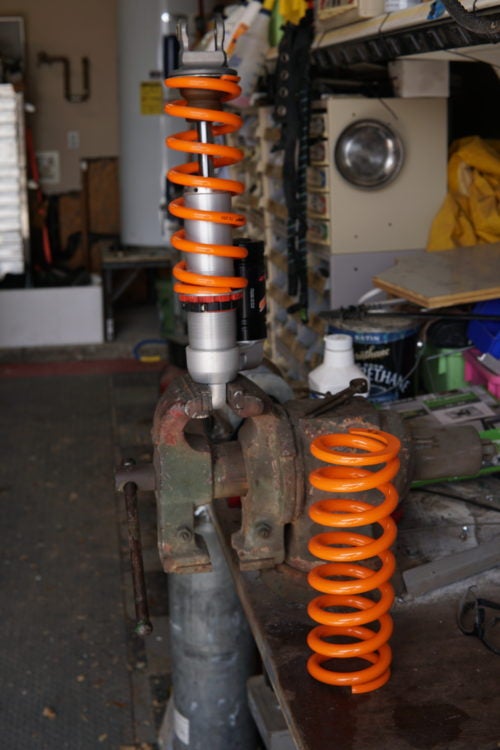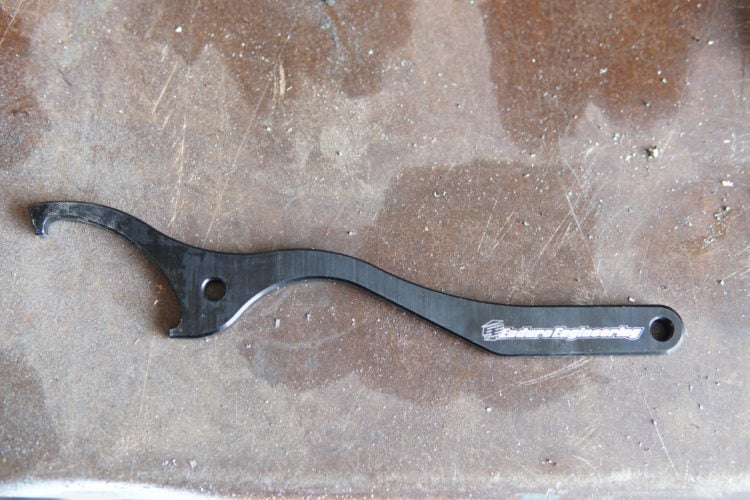 run the collar to the bottom then there is a retaining collar and large washer…push these downwards
no tools need to take off the spring clip, remove it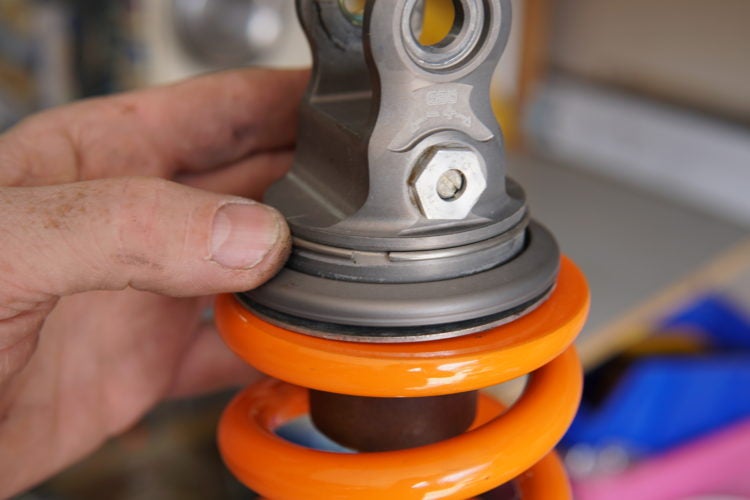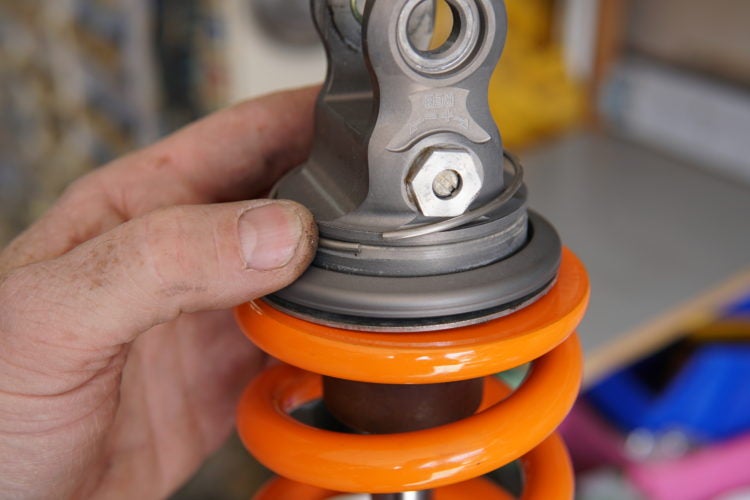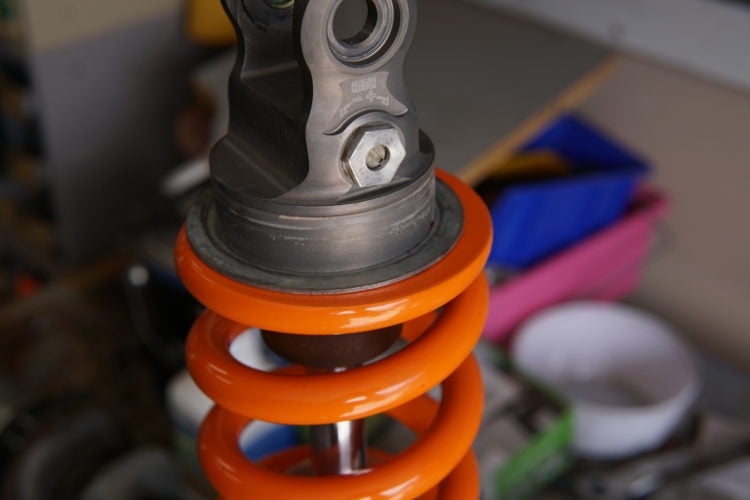 clean the shock body if necessary, inspect the seal for leaks and condition of rubber parts
swap springs
put the washer and retaining ring back on then the retaining spring clip.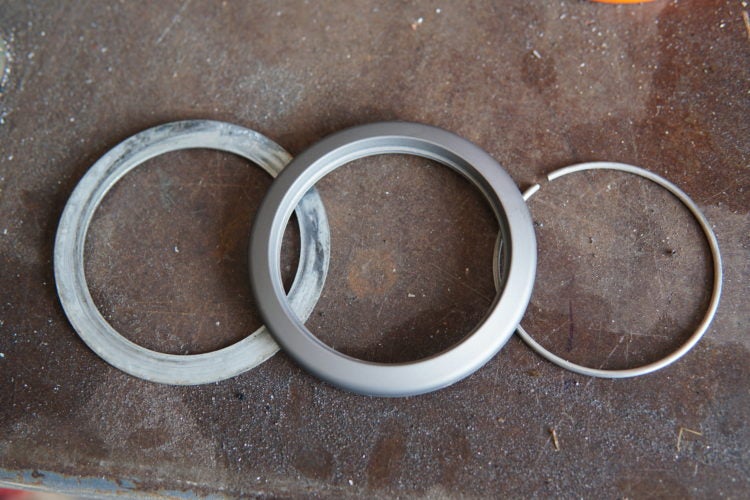 tighten up retaining collar to the stock setting, in my case 250mm length
before refitting the shock check your lower bearing for play, dirt, corrosion and change out of necessary
reinstall the shock in the bike tighten the top and bottom bolts to factory spec torque – ***there is a Tusk brand lower shock bolt option with integrated grease zerk fitting
install the mud protection plate
install rear wheel
that's it, it is literally a ten-minute job that anyone can do, ANYONE.
Once complete, then go through your favorite procedure for setting sag, depending on your weight and style of riding
I went with a 9.6kg, which puts me in the 296-320lbs range all in, I'm around 250 in riding gear, then add additional fuel weight over stock is another 18.5lbs added…this gives me more range for luggage (28 lbs +) in every condition while not overloading the spring or bike too much.
You have to keep in mind here 99% of the time the bike will be loaded
I was looking at a way to add a zerk fitting to the lower shock mount area, so this seemed like a good option.
For those of you not familiar with the word…
A grease fitting, grease nipple, Zerk fitting, or Alemite fitting is a metal fitting used in mechanical systems to feed lubricants, usually lubricating grease, into a bearing under moderate to high pressure using a grease gun.
My arrived Tusk PDS bolt kit arrived a few days ago
The big concern I had without seeing one of these was if they just drilled the bolt almost straight thru then added a zerk, glad to say no on that. They had left a lot of the body of the bolt intact to keep its strength.
So the fitting, is easy, take the weight almost off the back wheel, remove old lower PDS bolt, remove the old bushings, insert new ones, with loctite of course, torque to spec, grab grease gun and fill until grease is coming out of the side of the bushing area, then clean off the excess…done.
One thing to note is the new bushings are made from steel, not aluminum and have a coating on them, so this is an area to watch in the future to see how this coating wears off, as this may potentially be an area for rust now!
Moto Manufacturing they are making smart solutions for everyday issues.
So here's one, the Ram ball that a lot of us use is basically crap, especially in the southwest where summer temps get so high that plastic ball slowly gets softer, wears from vibration and fails…sound familiar.
Simple solution, an aluminum version, with some additional knurling for grip.
there is also making a threaded version of this to use as a mirror mount ball, if you use Double Take mirrors or similar.
to me, this is a much better option especially because this is holding my heavy Garmin Montana GPS, with a Ram arm
let's talk tools…
My basic kit is a little bigger than normal, I always seem to find myself fixing other riders bikes, and riding huge distances I prefer full-size tools a lot of the time just to be able to get the job done and riding again ASAP.
The other concern is having the tools now because once you get out of this country and into the wilds not to return for months on end good quality tools are just not available, sadly.
AFAM side plate press and riveting tool
3/8 sockets, 8mm to 17mm, mounted over a 1/4 extension with a 1/4 to 3/8 adaptor
selected torx bits and a standard bit for HDB big bolt
3/8 extension
MP spark plug thin-walled socketwith 1/4 thumb drive
1/4 drive multi-use socket, flex head and open drive for inserts, mini 1/4 extension and a Phillips bit
Endurostand
& 25. selection of hardware that needs to be reduced but shown as its a requirement
What's missing cause I have to find it/ buy it Nealey plug kit, tow rope, a new one is needed after doing a 300km tow across Cuba last year I might not trust it!
Forgot to show – pressure gauge
My Fork Doctor fork cleaning toolis kept on the bike on the fork leg, it has been moved to the upper fork behind the mask
I also carry a Motion Pro metric trailside tool kit that I can just throw in my pocket if I'm riding without luggage, or do very quick fixes when not needing to get the full kit out.
I added a couple of sockets including the 6mm and also a 7mm wrench for the nipples on the spokes.
Do you need a luggage rack, yes and no, @Aaron.S hasn't used one in over 100k and I've looked and really looked and not found any reports of subframes cracking? So the simple answer then is; No, you don't need one…but…
What if mine cracks, if it were the first, would it happen outside a welding shop with aluminum welding capabilities?
What if the guy who welds Aluminum is on vacation!!!
That part is not an issue, I worked as a TIG welder so I could step in and do it myself if the equipment is there…but that's the big problem, most of the time the equipment is not.
Welding steel? Just about every farmer I've meet has a buzzbox/ MIG/ stick welder in his barn, so getting a repair done is easy everywhere in the world.
In 2014 in Siberia, I was chatting to a guy and asking if I need an Aluminum Tig welder where could I find one, on a napkin he drew me basically this. He was the guy who owned the TIG welder in Yakutsk. Imagine that distance just one welder in between the equivalent of New York City and Phoenix…he was on vacation in Blagoveshchensk and his shop was closed for two weeks!
That's more forward-thinking for next year, but just case for this year I just wanted to cover my bases, even though there are probably thousands of welders all over the US and Canada, I only want to have a beer with them not stand in their shop, so I bought a luggage rack.
Yes, yes I know it will affect the handling and that's not what the 500exc is made for, blah, blah blah, I will be using it differently than most
Moving on…
I sent a message to George at Globetrottin.com  his rack claims it holds 40lbs, it's quite a unique design instead of supporting the weight ON the subframe it actually uses force and pulls (which of course is stronger) on the seat mount bolt fixture and subframe.
Mounting is easy a few bolts, lower subframe mounting bolts are replaced with longer ones and machined spacers
I ordered mine with the daisy chain running down both sides, right now I don't need it, and honestly not sure what I need it for in the future but, hey just added it just in case, weird shit happens in the middle of nowhere.
What I do like is the top rack section ends before the end of the exhaust so the potential for burning luggage is reduced
***edit: and note it is predrilled for Rotopax if you don't want/ like a bigger tank, just there to carry more gas when you know you'd need it
I'd considered a ProMotoBillet rack a few dollars cheaper, but the mount is much further back and the possibility of gear melting is increased…not good, look at the comparison of how far back it sits, and we know turn signals don't last back there
A big delivery, Warp9 wheels with cush hub and supermoto rotor, complete Tubliss system, front and rear sprockets from Dirt Tricks with a dome washer for the front.
I had an extra set of Metzeler 6 days tires that came with the bike so I used them for shoes
I run SuMo disc and have been for quite a few years on various bikes, it might seem like overkill but I have had a few incidents where a standard front would be enough braking and I'd be dead or in a wheelchair, that extra few feet of braking power helped me stop just in time.
The new Gen 2 Tubliss system now requires three wraps of tape spread instead of one wrap in the well
not really sure what the issue is that I read of people struggling with getting the system onto the rim, to me it seemed easy, and if need be swapping out the tube on the trail I can't see being that hard.
I decided to go without 'slime' or similar, and to run the system in its original state so I could get a feel for it, also for fixing a flat. I kind of would like to see how much of a problem it really is carrying a tube and having to switch out mid-ride…but not hoping for it to happen
I think once you understand the lubing of the tire and how the 'helper plate' does assist getting the rim in the tire, next time around easy, no 'helper plate' required.
I chatted with Zack at Dirt Tricks and was telling him about the build and the ride and asked in his opinion would this sprocket make it RTW, he thought so without issue, so he sent one and tagged it for reference
The sprocket of choice was a 15/48 combo, as I need all-round performance
TUbliss sent over one of their foot/ hand pumps and TBH I cringed, I really don't like these things, but I was amazed how easily it got the inner bladder to 120psi and sealed the bead and then getting the outer tire to pressure quickly as well
The rims are Warp9 Elites, a little heavier than stock and lot stouter for sure. What I like about Warp9 is I personally have never had any major issues and minor ones have been sorted instantly, Kevin has even called me on a Sunday afternoon to resolve things, not as a friend but as a solid businessman.
So all mounted up, and a quick spin and instantly felt a difference in the way the tires gripped the ground…this is going to be good
I'm a 32-inch inseam, and the stock seat height is about 38″/ 970mm, but then the spring upgrade added another 10mm to that, but I have bacon cheeseburger and beer weight to assist in the spring compression, so I can get both feet kinda on the ground.
So the correct calculation taking into account sag is this 970mm + 10mm = 980mm – 115mm (sag for rider and gear 105-115mm) 865mm or 34 inches
or this
it was time for a test ride but first, for reference hours/ miles
Time for an unladen test ride…and a few minutes, this!
Next up is luggage
I'm a Mosko Gear Guide, they have me and a few others that use their luggage system every day to answer questions on the specific gear we use daily.
…and what do they look like and fit like on the bike, keeping in mind both bikes have racks.
80 on the left 40 on my bike on the right
So if you aren't familiar this is a luggage system that DOES NOT require a rack, I chose to add a rack for a little added structure
The systems are modular and two side bags and top bags fill as individuals and the top bags can be swapped out with other bags if you want.
Obviously, packing for RTW is a lot different than say doing the TAT, BDR, or weekend rides, more gear is required for 4 seasons, but still trying to stay light.
I did a quick weigh on my gear and it came in 32lbs, if I stopped eating cheeseburgers and drinking beer I could eliminate that weight from me…but the luggage no!
Fitment wise, the R80 is obviously double the size in volume, but not in physical width it's approximately 30″ wide, packed and the R40 is 26″.
The r80 bags are a lot deeper and put the weight lower, R80, farthest from the camera
On the bike, if you own a seat concepts seat then you know the logo is almost at the back, so the bags don't interfere with your riding position, but also not too far back that they get exhaust burns – R40
R80
The Pico Tank Bag is tiny, 7.5″x4.5″x3″ (outside dimensions) if you put a can of coke in there it's virtually full! I don't find it impedes my riding position sitting or standing, but I'm rarely in mx position with my sack on the gas cap…your sack my vary!
So there you have any questions on luggage I'm happy to answer if you want more info on Mosko, use the links at the top of the post or read their massive thread in vendors
…and before any of you second guess my decision to use MM, I was a customer since day one they were in business and talking to Pete before he even sold his first product, I didn't just jump on the bandwagon for this thread, I HAVE used a lot of other soft luggage but I prefer MM, for how I like to pack, how I can position the weight, their solid durability, and amazing customer service
I decided to use the R80 for one very simple reason I NEED a computer with me at all times dues to photography assignments that pop up on a regular basis, I need to be able to process shots and can't do that to magazine standard on a phone or iPad. The other thing is that needs to sit up top away from drops to the side and potential damage, so that is another thing to consider.
Packed the 40 vs the 80 has a different top footprint between the side bags and has a reduced size to lay anything flat. Also, keep in mind that the top beavertail fits from front to back not side to side, so you can only add a different bag of a certain length and be able to strap it down
Remember here that both the setups are on racks so without a rack they would be a good few inches tighter to the bike.
I don't think the r40 would be an issue at all on tighter trails and would sit around 22-24 inches wide (without racks), for me it'd be perfect for things like the TAT, CDR, BDR's, week or so camping (and not taking a computer)
I know I can pack for RTW travel in 70 liters or less covering four seasons camping and cooking, I wrote an article about it here since then some things have been reduced, so the R80 would be lightly packed
The difference between MM and the others is the double-wall strength, so durability is increased for when your bike takes naps
Obviously, if you're reading this thread you want to pack smaller and ride lighter based on where and how you ride…
Camping gear –
A delivery arrived a few weeks back but its been under wraps until now, because we hadn't reached the luggage section of the show yet.
I am not an open-air camper (no tent)
hammocks make my back hurt
bivvies make me claustrophobic
tarps aren't waterproof or bug proof
I need a tent!
I want my gear inside the tent, I want that as a viable option
I've used all manner of tents, 1-man, 2-man, 3-man, different companies, different season ratings, double and single wall, etc. all of them are ok but all have the same issue, the friggin poles are always a problem; toooooooo long!
Well not anymore, Big Agnes sent me one of there first public released 'bike-packing tents', Copper Spur HV UL2 Bikepack, and I sent them a tongue in cheek reply/ thank you and told them I'd made them a new ad they could use in motorcycle magazines, (it took me all of two minutes to design btw), but it gets the point across
That's right, that there is a two-man tent with 12″ long poles and weighs 3lbswith out the ground sheet
So forget your #1 hammock without a rain fly, and #3 "a real 1-person tent " 
(3) this is the new level of small, and to burst the "real 1-person" deal, even more, this is the biggest of the four bike packing tents they make, has 50% more floor space than a one-man ultralight for a few ounces more, and two vestibules and two doors
and just so you know that #3 is a 1 man tent…with 17″ poles
So I'll just leave that here…
Did a test ride yesterday, loaded the bike down with a fully packed luggage (that looks WAY bigger in photos than it was)
Rode some double track in the desert for a good few hours, even a little single track and all I kept thinking was… 'is the luggage still there?' Cause to me, I couldn't feel any real difference in the performance or handling of the bike.
I came to a conclusion, all of you that complain and have an opinion that the luggage size and weight would ruin the feel of the bike are much better riders than me, or I'm just not used the bike yet and can't feel the differences in performance and handling that much, the testing will continue.
I even crash-tested it after giving it an impromptu flying lesson.
I was out with @dave6253, he was testing his new 690 set up w/ the R80, taking a few shots using each other camera equipment, but solo its just the case of lining up the shot, using a tripod and an intervalometer
Oil changes, I'll be carrying a Primus 1.5L so I'll be good for riding and based on what @Aaron.S has been telling me, oil changes at around the 1500km +/- mark so I'll be set for 3000km giving me plenty of opportunities to find a new supply. I will keep the used oil for an emergency just in case, so at any given time I'll have 1.5L on the bike spare.
I'm thinking river crossings where the bike takes a swim and I get some free milkshake, I'll also carry a stainless filter so if I do get emulsified oil I can use the SS for quick multiple changes so I don't go thru my stash of stock filters
Air filters – carry a pre-oiled spare plus filter skins for quick use, already out waiting to go.
Chain lube – over the years I have tried a bunch of different options, sprays, auto filters, gravity filters etc, but recently I have gone back to old school chain oiling with a soft toothbrush and gear oil applied. It works in two ways, lubrication and cleaning. The frequency for oiling, I generally oil every other day unless it has been raining or there's been a lot of river crossings then I oil daily
Tires – The final delivery just arrived
The Tractionator ADV according to MotoZ has an estimated lifespan of around 10,000km + I personally have got a lot more, The last ones I swapped out had 11,200km and only swapped due to new tires waiting and not wanting to carry. At that distance the fronts were basically done, that was riding 70%+ dirt thru Colombia, Ecuador and Peru on a DR650, a lot less HP but more weight…to give you a point of reference.
The others are Desert H/T'sI have never used them, they were sent for me to do a comparison, grip vs longevity, they only expect me to get 2500miles/ 4000km out of them…we'll see. Generally, I'm very easy on tires
***Already noticed a couple of things needed looking at,
side stand going down a rough track makes it touch the rack, need to add an additional stop to reduce some of the movement
windshield is made for a 2016 and earlier mask, with the 2017 it is seriously rubbing and will rub a hole thru it in probably 3000 miles or less (this test ride) so need to adjust the spacing and position it a little further forward
everything else so far so good
My basic pack list requirements are –
tools
spares
oil for oil changes and chain maintenance
filters
clothes for 4 seasons
laundry capability
toiletries
tent, sleeping bag, pad
cooking gear, for real cooking not dehydrated boil in a bag stuff
space for food for days
wet weather gear
bike cover and security, chain, lock, tow rope, etc
additional water carry and filtration capability
camera, lenses, tripod, computer and charging for all electrics – required for assignments (income)
If I was rich and didn't have to shoot photography to fill the tank then I could most likely do it in 40-50L, eliminate the tent and sleep-related gear and be in a hotel every night and eat every meal in a restaurant I'm using liter volume in the 20 or 30's, but with the list above I am at 65 +/- liters and this means there is no choice that something at seat height is required sadly, and the performance of the bike will suffer…but it still beats the hell outta the DR I was riding for the last 100k
for reference this is it!
and packed it looks like this, I use the 25-liter duffle instead of the 22L stinger because for me the shape is more user-friendly, I partially fill this out of harm's way for electronics
About the windshield set up, as it changed. The set up I have is very rudimentary, its sole purpose was to see if having a tall windshield worked for me on this bike, as I've had them on a few bikes. I wasn't sure if the seated/ standing position would be good or not with a screen. Having not grown up riding motocross what I like a motorcycle to look and ride like maybe different, obviously YYMV
I have all of $10 into the setup, my build list was
screen laying around from another DR650 (free)
steel bar stock (I had laying around, free), cut to height, twisted 90 deg.
7/8″ aluminum round bar stock, bought from amazon $10
4 rubber/ internal spring H-D oil tank mounts (I had laying around, free)
I used the existing threaded hole in the HDB mount, and drilled holes to mount top and bottom, taping the round stock to thread bolts into
The Trail Tech is mounted using their mount, which came with my set up
The screen mounted with the oil tank rubber mounts four across for stability, and I wasn't bothered about aesthetics as I knew this wouldn't be the final iteration. They serve in two ways by adding an air gap so the pressure is reduced against the screen and to stop flex because, air can also get under it, somewhat…like most windshield mfg's do. The bottom mount is a couple of nuts and bolts with about 5-8mm spacers
It's not pretty but like I say not a final set up for the RTW, it was a test, the final version will be a little different, hope that helps you mounting yours…BTW it did work very well, right up to the point when I looped the bike, as this was the thin version it split on the landing, so I hope you got the thick version of the screen
To be continued, Part 2will be, what worked what didn't and the final build before I ship to Europe is coming soon…